Ursula's Den: Kitsch-en Progress
Anyway, back to the kitchen.
[If this link appears less than seamless, blame my editor who published the previous post out of sequence.]

Where were we? Oh right...appliances. I could have tried and written what I had in mind or just showed you the finished one because for once I actually managed to build what I had in mind.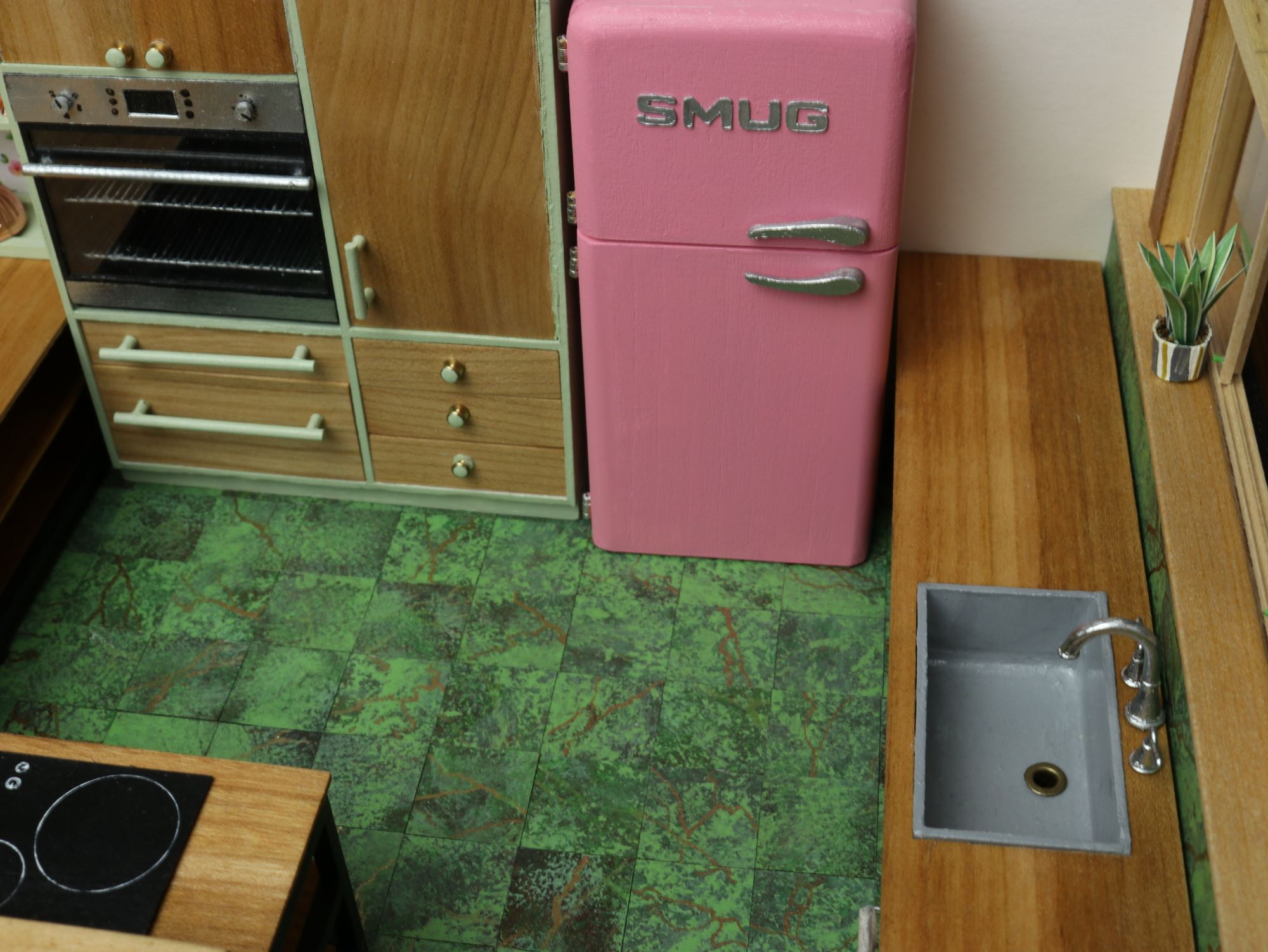 Now that I write this I had to realise I went back to my old habit of nottakingprogressphotos. I have found only one where its not finished...
I hate cabinet doors in this scale. Both the cabinet doors and sides are only 1.5mm thick, which is not much room to secure a hinge and also the micro hinges are expensive. Which is totally understandable, but I was unwilling to spend £12.80 on hinges alone this time. So instead I glued a 4 mm wide silk ribbon on the door edge (note to self: next time try and use ribbon in a matching colour)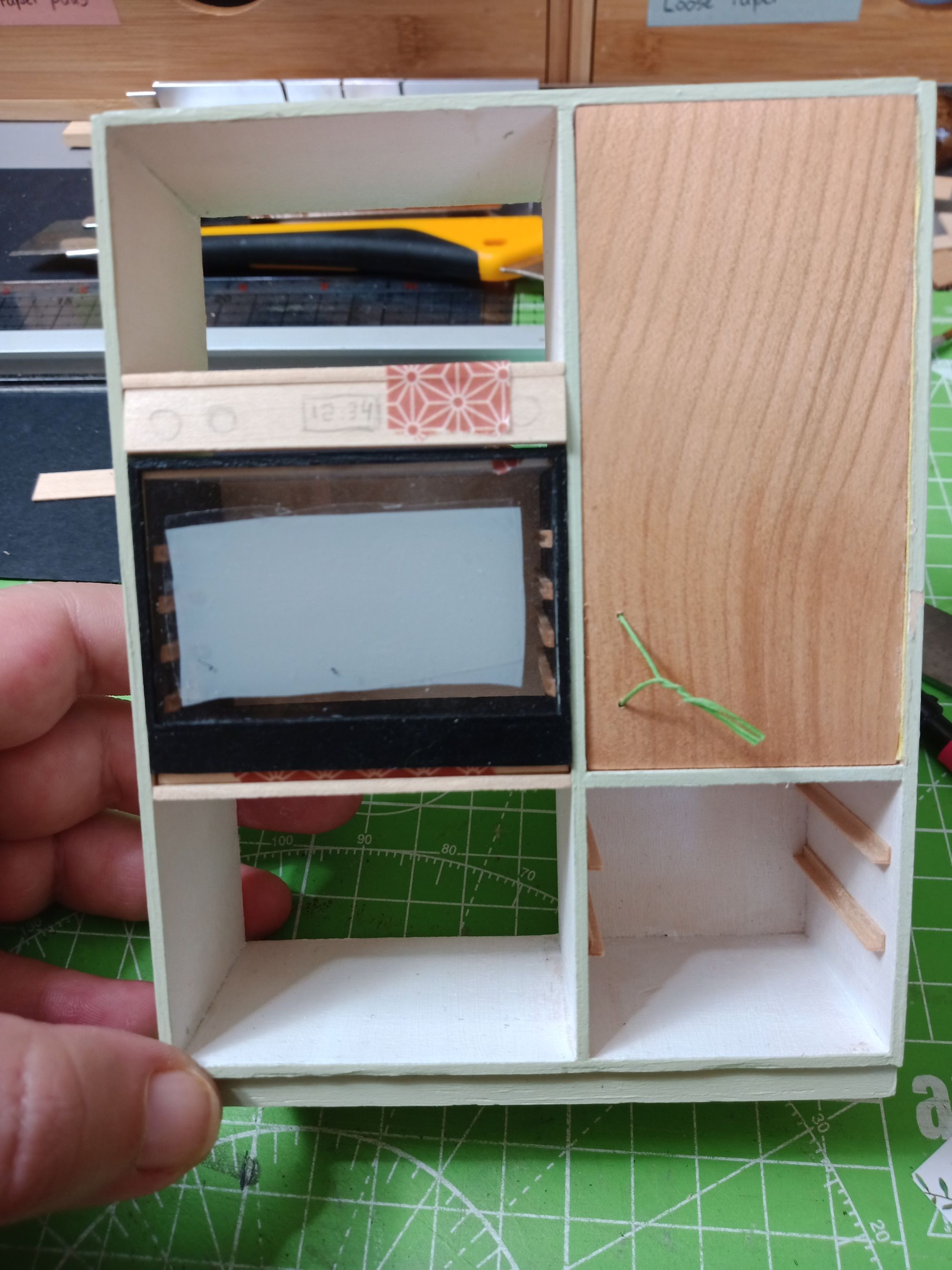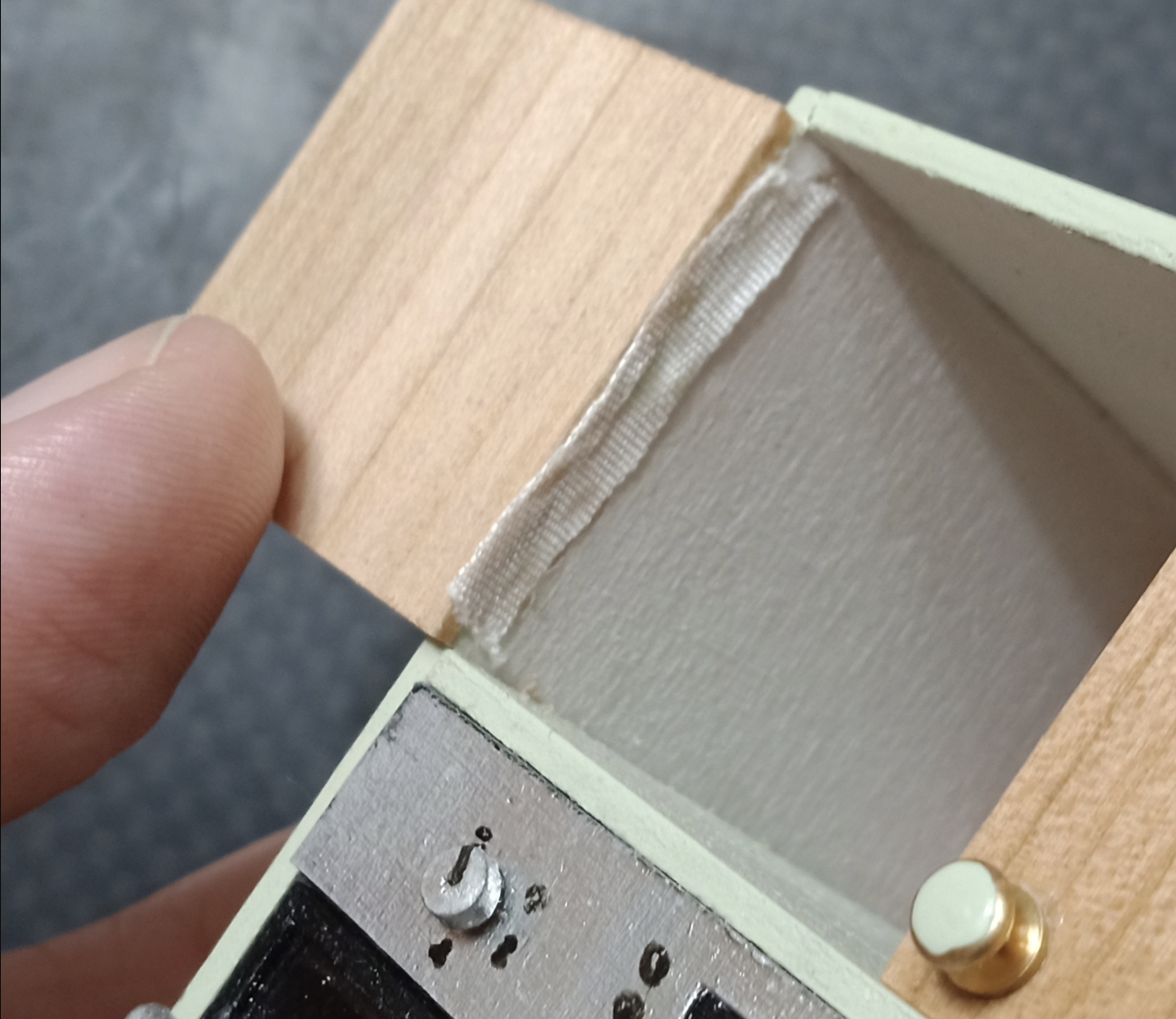 The oven looks more intricate than it really is, the insides are 1.5 mm matboard, with wooden U channels glued on for rails, the front is a 0.8 mm clear PTEG piece framed with the same U channel I used for the rails and glued on an additional wood piece on the bottom, then this too got its ribbon hinge.
The wire rack I will redo at some point, I just have to learn soldering. For now it looks good enough.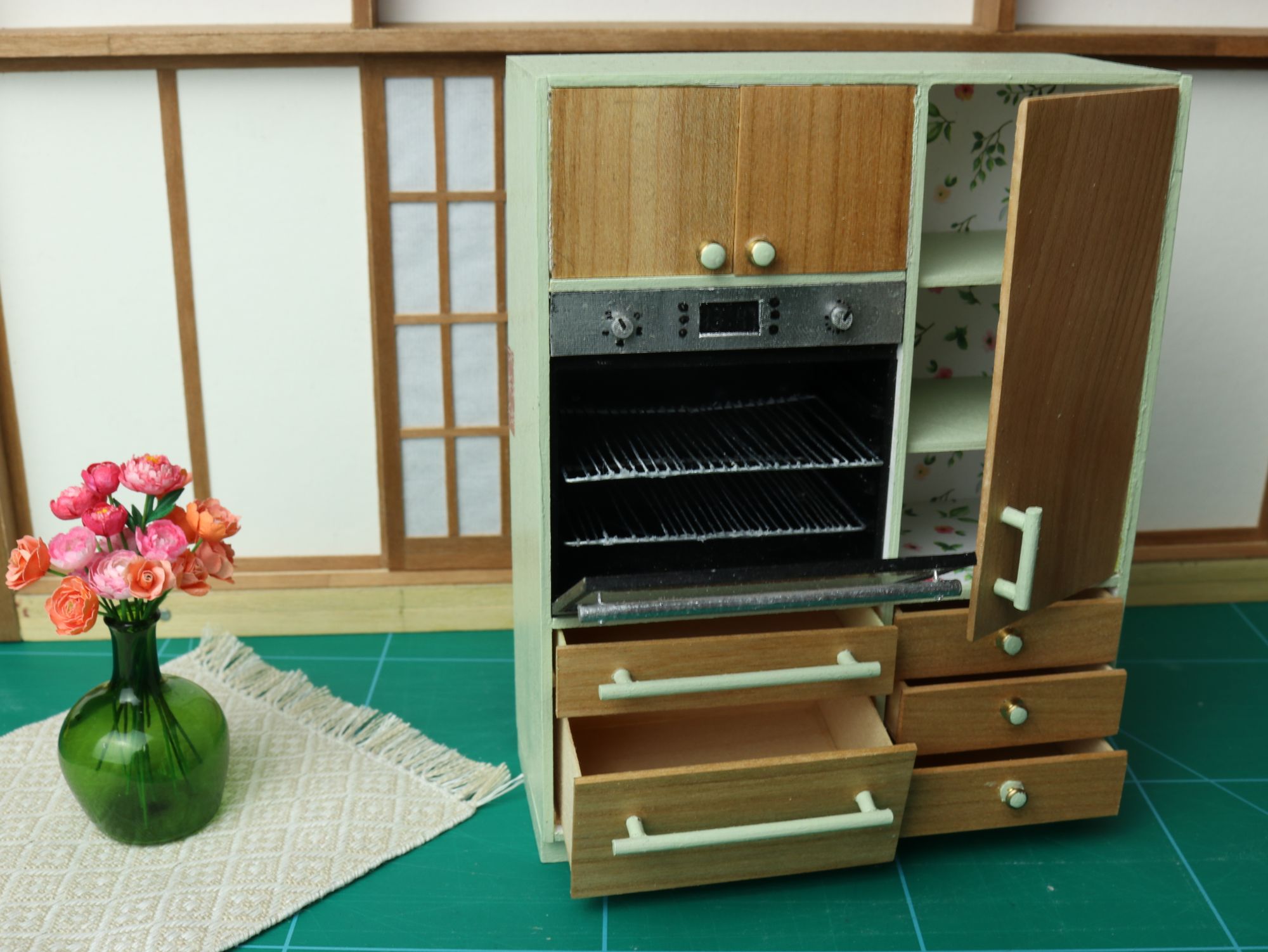 In my comic I do like using well-known brand names with a twist: the first was Bert's old Carrot laptop, then Haremann's Rabbit shoes, the Alienhare laptop and now Ursula's Smug fridge.
I wasn't sure what type of fridge Ursula would use and she wouldn't tell me either. So I put on my 'think like a bear who has a fully equipped kitchen' cap and off I went  (2nd note to self: if you're just gathering inspiration for a miniature, there is really no need to read the product reviews)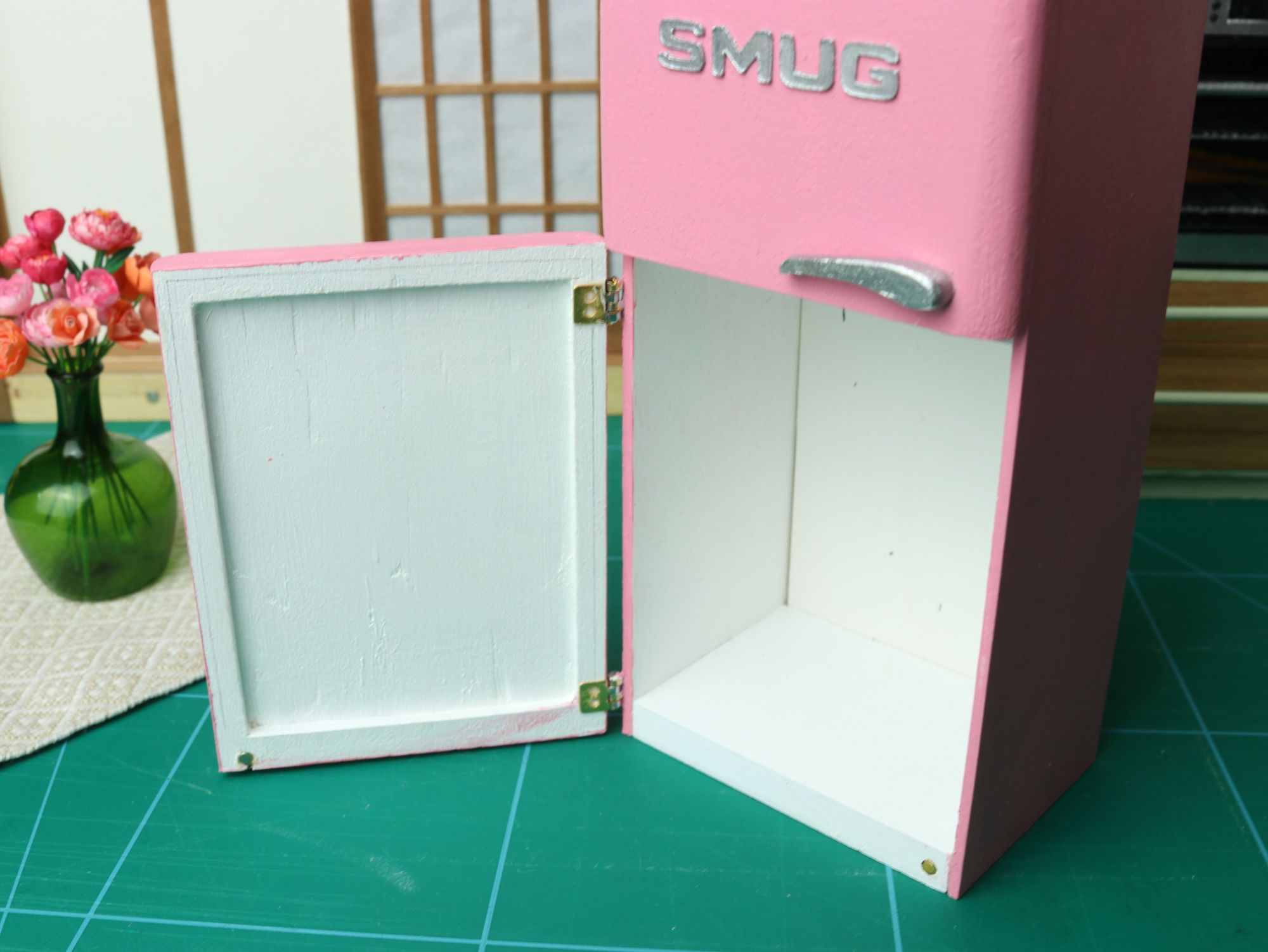 Constructionwise it's pretty simple, just 8 pieces of  wood, okay 3 of which are heavily sanded and one is carved out on the back (for when I actually finish the inside). The door handles are carved from foamed PVC then painted with Stuart Semple's Mirror paint ,it's pricey but it's worth it. It's miles better than any other metal looking paint.
[to be continued]